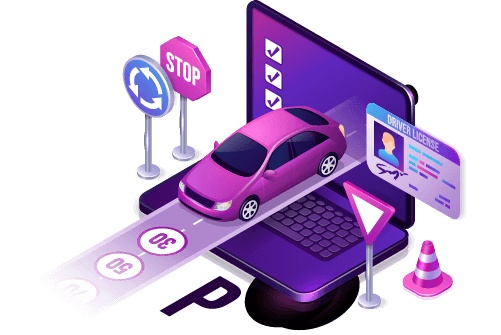 Are you preparing for your knowledge test? Getting overwhelmed with the amount of information you need to remember for the exam? Let's help you study for it with our practice permit tests!
Answering practice tests is an easy yet effective way of preparing for your driving permit test. Our high-quality tests feature questions based on your state's actual learner's permit test. It is designed to help you pass your exam on your first try!
At DmvEdu, you get comprehensive and accurate practice tests with over a hundred questions. They provide valuable information about the general rules of the road as well as state-specific traffic laws.
We've even made it more convenient for you to study as our tests are available online. You can also access them 24/7 which means you can practice on your own time.
We guarantee that answering our practice tests won't just help you ace your learner's permit test but also equip you with the information you need to become a safe driver.
How to Take Our Permit Practice Tests
Easy, right? So, what are you waiting for? Enroll now and start practicing right away!
The Best Permit Practice Tests Only from DmvEdu
As a trusted provider of drivers education and traffic school courses, DmvEdu is committed to giving clients quality products like permit practice tests for each state.
What exactly do you get when you register with us?
Our top-rated permit practice tests are what you need to ace your knowledge test and be a step closer to earning your much-awaited driver's license.
Questions? Contact Us Now!